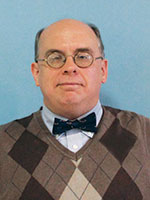 Who: Rev. John David Heeckt
What: Pastor
How: As Pastor, Rev. Heeckt is responsible for the spiritual life of the church, for leading worship and preaching, for teaching, and for leading the process of discerning where God is leading our church, and how we can follow where God is leading us.
How Long: Rev. Heeckt has been our pastor for just about a year now, after spending the previous ten years serving two UCC congregations in Connecticut, and most of the ten years before that serving in campus ministry at Boston University, Boston College and other Boston-area schools.
Hobbies: Reading (particularly history and mysteries), music and art, psychology and sociology (no, really), cooking, hiking and camping, travel, singing, sports (go, Mets and Steelers!), taking the occasional nap (but really, who doesn't?).
Fave Quote: "Make no little plans; they have no magic to stir men`s blood and probably themselves will not be realized.  Make big plans, aim high in hope and work."—Daniel Burnham
What I Love About Saint John's: There two things I love about Saint John's.  First, I love the people here, who really are a kind, generous, friendly and caring group of people.  Second, I love the opportunity that we have here at Saint John's to become a church that is truly dedicated to making a difference, not only in the lives of the people here at church, but also in the lives of people in our wider community.  Oh yes, and the food at our Saint John's Brotherhood's dinners is very good. I love that, too.
---